The Board of Directors of AAME oversees investment decisions and decides how to disburse proceeds from the Endowment Fund.
The Board of Directors are all volunteers who receive no compensation. The Endowment has no paid staff.
Mike Pannone
President
A pilot with more than 50 years' experience flying in Alaska and western Canada, Mike Pannone is a retired air traffic controller and professor of aviation at the University of Alaska Anchorage. Mike donated more than 37 years of community service through Civil Air Patrol, which included more than 15 years at senior command level statewide and nationwide. He holds a Master of Aviation Science degree. He is currently owner and lead consultant for Aero Forensics Alaska, LLC., and resides at the Wolf Lake Airport in Palmer, Alaska. Mike is a recipient of the FAA's Master Pilot Award and is a member of the Alaska Aviation Museum's Trustee Board.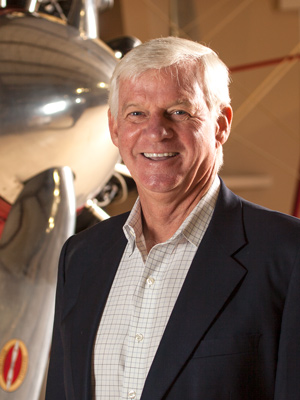 Rick Morrison
Vice President
Businessman Richard (Rick) Morrison moved to Juneau, Alaska, in 1975 and to Anchorage in 1976, where he opened the Anchorage Eero Volkswagen store as its service manager. He eventually became sole owner of the Morrison Auto Group, which now includes Volkswagen, Audi, Isuzu and Porsche. Involved in community affairs, Rick was the founder and chairman of the Vision Anchorage project and is active with Anchorage Chamber of Commerce, Rotary and Anchorage Economic Development Committee. He is a past board member for Enstar Natural Gas, Tryck Nyman Hayes engineering, Alaska Civil/Military Aviation Advisory Council, Alaska Airmen's Association and National Air Racing Group. He has been a flight instructor in Alaska for approximately 31 years and has flown nearly 5,000 hours in over 50 different types of aircraft.
Orin Seybert
Secretary
Orin Seybert founded PenAir in Pilot Point, Alaska, in 1955 and grew it into one of the largest regional airlines in Alaska, with service between Anchorage, Bristol Bay and the Aleutians. It also offers service from Boston to three Northeast communities. Orin soloed at age 16 and earned his commercial license at 18. He has flown for more than five decades, earning the FAA "Master Pilot" award for 50 years of piloting without an injury and a Coast Guard "Gold Life-Saving" medal for a rescue he performed. He joined the Alaska Air Carriers Association in 1966 and served on its board of directors and as chairman from 1978-1981. Orin served as president of the Alaska Aviation Museum for many years and continues on its board of directors.
Mary Sholton Witte
Treasurer
The daughter of one of Alaska's best-known aviation families, Mary Sholton Witte was born in Anchorage, Alaska, in 1963 to Rita and Bobby Sholton. Mary began working in the aviation industry in Seattle following her graduation from the University of Montana, Missoula. In 1990, she joined her family's business, Northern Air Cargo. Mary worked in various positions throughout the company, becoming president in 1996. After helping to identify and select a new president for Northern Air Cargo, Mary ran the company's fuel business, Northern Air Fuel. In 2005, she helped her family sell both companies. Mary is currently the managing member of RAMP, LLC and RNS, Investment LLC, performing investment management for the companies. She also works alongside her husband, John, in their freight-forwarding business, Naniq Global Logistics, LLC. Mary is active in the Marfan Foundation, serving on its board for many years, and currently serves on its finance committee.
Nancy Seybert Schierhorn
Board Member
Nancy grew up in the state of Washington and has lived in Alaska for 33 years. Her family has roots in Bristol Bay dating back to 1950, when her grandparents moved to Pilot Point as schoolteachers for the U.S. Bureau of Indian Affairs. After graduating from law school in 1986, Nancy and her husband, Joe, settled in Anchorage. Following 25 years of private practice, Nancy worked as in–house counsel for ExxonMobil Corporation and Bristol Bay Native Corporation (BBNC). She is currently the Executive Vice President, Chief Corporate Development Officer for BBNC and is responsible for mergers, acquisitions and investments for BBNC and its subsidiaries. Nancy and Joe have three grown boys – Chris, Brad and Eric – and are avid sports fans due to their sons' participation in hockey and baseball. Nancy is an accomplished athlete herself and competes regularly in the grueling Mount Marathon Race.